Reveal how and where students will be most successful.

The TruTalent™ Personality assessment, formerly known as Do What You Are®, is part of the TruTalent suite and has been used by millions of college students around the world to help them better understand themselves and others. TruTalent Personality helps students make more informed decisions about their future employment.
People are happiest and most successful in work that allows them to use their greatest gifts, and personality is the best way to determine what those gifts are. Personality is the innate way people naturally see the world and make decisions. Unlike values, skills and interests, which can change as we age, personality remains constant throughout a person's life and contains a set of basic drives and motivations that can be instrumental in selecting a career.
For an even greater understanding of each student, TruTalent Personality works together with TruTalent Skills and TruTalent Intelligences to reveal different aspects of an individual's talents, gifts and preferences, as well as leading to the best possible career matches using Human eSources Career Matching Technology™.
Show students college majors and career paths best suited to their 4-letter personality types
Spend less time administering assessments and more time with students
Self-aware students communicate and work better with other students and staff
Take a peek inside TruTalent Personality
Match students
Identify the best employment candidates for job fairs, co-op & internships

Easy Job Search
Explore open positions and apply for employment
Career Focus
Career interest survey helps determine favored career options
Familiar Format
Assessment uses scenarios familiar to students and takes 20 minutes or less
"Students love to get their results from TruTalent Personality, and I love that it's a thorough assessment that's easy to use."
-college counselor
TruTalent Personality is…
Written specifically for students
Career and employment focused
Fast and convenient
Online and fully automated
Statistically valid and reliable
Accurate and precise
Rated for personal fit
Multilingual
All of our programs boast:
ALWAYS ON
Available online, any time, from anywhere (24x7x356)

REAL SUPPORT
Live customer support for both staff and students ALL DEVICES
Use in any internet browser – no specific device required

PRIVATE
Secure personal portfolios for students and staff
Frequently Asked Questions
Q: What is
personality type?
 
A: Personality type is the innate way people naturally see the world and make decisions… READ MORE
Q: How long does it
take to complete
TruTalent Personality?
A: It typically takes 20 minutes or less to complete the assessment.
Q: What is in the
TruTalent Personality report?
A: The report includes an explanation of personality type, a graph of assessment scores… READ MORE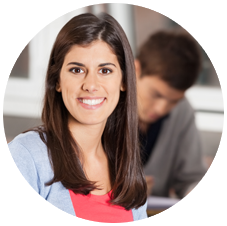 "I liked how I became more familiar with my own personality. I think understanding oneself is so important because it allows you to go to through life more confidently."
-student
Ready to learn more?
Talk to one of our postsecondary consultants and discover how TruTalent Personality can work at your institution.